There are 82 Masters of Public Policy programs in our online directory.
Public Policy is a more defined track of the Masters of Public Administration. Oftentimes it is offered as a concentration, or a specialty track within an MPA degree. The MPP degree focuses more on affecting different policies and law either within the United States or on a global or international scale.
The effects of people that work within Public Policy can be grand, or they can be more targeted in working with local governments or organizations.
The Masters in Public Policy program is a great way for graduates to get involved with the various aspects of the political and social environment. Dealing with both policy administration and problem solving, this degree program is a great choice for students that hope to become actively involved behind the scenes of policy analysis and creation in a variety of different branches of the public sector.
Providing a helpful hand to institutions and agencies that serve the public is an excellent way to serve society, making this an excellent degree program for interested applicants. Students that decide on a public policy path will find that the curriculum includes studies into the basics of leadership as well as in depth looks into healthcare policy among, economics, and ethics. In order to become a great and effect public policy graduate, students must be able to apply various aspects of the social and professional world to policies that may affect large populations of people.
Online Masters Degrees in Public Policy
The reliability of online degree programs has progressed over the last decade to a level that is comparable to traditional learning environments. Graduates are finding that employers are more readily accepting online degrees due to the regulations placed upon universities regarding accreditation.
AD
*Consider an accredited online MPA program that can put a Masters in Public Administration degree in reach:
Dual MPP / MPA Programs
The Master's degree in Public Policy can be obtained through online-only degree programs. These programs allow students to get the most out of their degree program from their very own home. The online Master's degree in Public Policy may take about two years to complete through traditional scheduling and require that students actively participate in online discussions through a virtual classroom setting.
Online Learning Environment

The tests and homework assignments are turned in via an online drop box tool that delivers documents directly to the instructor. One university offering this degree program online gives students the option to work in a public policy sector on a local level in order to receive credit for courses throughout the program. Universities such as this one give students some variety as to how they are exposed to public policy, as well as providing a diverse mechanism for learning while in the program.
What Can You Do With a Public Policy Degree?
With such a diverse degree program, students sometimes wonder what a Master's degree in Public Policy could provide in the future. The answer to this question lies within the graduate. Choosing a professional path is based not only on the degree chosen, but also the dreams of the student. A Master's degree in Public Policy provides students with the skills to work on the local level – managing non-profit organizations or even local government.
Government Policy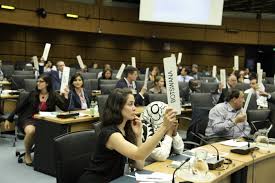 For individuals that seek a career on a higher governmental level, public policy graduates can potentially seek employment in state government – helping form and analyze policies that apply state-wide. Graduates in this field can work for healthcare companies, helping provide policies regarding public health and disease prevention.
International Policy
Global policy analysis is another field that may interest graduates in this major. Working with government agencies to ensure that policies not only fit the needs of America's citizens, but also aligns with what is expected internationally.
Association for Public Policy Analysis and Management
The Association for Public Policy Analysis and Management allows professionals in this field to become members and gives access to numerous tools for success throughout a career. Professionals in this field can truly benefit from the community support and literature available from organizations such as this one. Continuing to take advantage of these career advancement tools can assist professionals with finding the best jobs and staying current with the public and its needs.
Careers in Public Policy
With a Master's in Public Policy, a person may find career opportunities that provide well financially throughout his or her lifetime. Depending on which field is chosen, the opportunities for advancement may be higher or lower than others. One of the highest paying positions that require this type of degree is the medical services manager.
Public Policy Salaries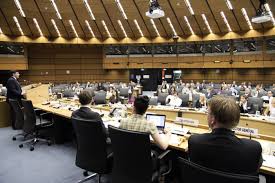 Having a high duty of responsibility throughout medical facilities, medical services managers provide guidance and planning for medical-oriented organizations on a daily basis. Those working in this position may earn $94,500 per year on average in the U.S. (BLS, 2015). These figures can vary depending on location and experience.
Management analysts provide valuable information to companies that seek better policies and ideas for improving their organizations. On average, individuals in this position earn $81,320 per year according to the BLS (2015). As an Urban and Regional Planner, professionals have the potential to earn $68,220 per year on average according to this Bureau of Labor Statistics.
List of Masters of Public Policy Programs
Below you will find all of the Masters of Public Policy degrees in the US. All are accredited, but NASPAA accredited programs are noted in the school information box.
Arizona
Grand Canyon University
School Details:
Phoenix | AZ
Students: 101710
Acceptance: 58%
NCACSHLC
GCU's Master of Public Administration with an Emphasis in Government and Policy assists students for a career in government. Degrees can also be obtained online and during evening classes.
Programs:
California
California Lutheran University
School Details:
Thousand Oaks | CA
Students: 4928
Acceptance: 61%
WASCACCJ
The MPPA at CLU is an interactive academic experience in classes that average fewer than 15 students. Students will study in the fields of labor relations, law, public policy, criminal justice, ethics, budgeting and finance, immigration policy, human resource management, health care, and more.
Programs:
California Polytechnic State University-San Luis Obispo
School Details:
San Luis Obispo | CA
Students: 20916
Acceptance: 31%
WASCACCJ
The MPP program at Cal Poly is structured to prepare graduates to work as analysts and program managers. This is a two-year program which focuses on public policy, policy analysis, quantitative methods, and economic policy.
Programs:
Mills College
School Details:
Oakland | CA
Students: 1662
Acceptance: 76%
WASCACCJ
The MPP degree at Mills College prepares students for careers in public, private, and nonprofit organizations. Students can graduate with specializations in Nonprofit Management, Innovation and Impact or Education Policy.
Programs:
Pardee RAND Graduate School
School Details:
Santa Monica | CA
Students: 104
Acceptance: NA
WASCACCJ
Pepperdine University
School Details:
Malibu | CA
Students: 8276
Acceptance: 35%
WASCACCJ
Pepperdine offers an MPP for students looking to be analysts. Specialization within the program include: Public Policy and American Politics, Public Policy and Economics, Public Policy and International Relations, and State and Local Policy.
Programs:
Stanford University
School Details:
Stanford | CA
Students: 19774
Acceptance: 5%
WASCACCJ
Stanford's MPP degree is a two year program available to current seniors, graduate students and alumni. The program also offers many different concentrations.
Programs:
University of California-Berkeley
School Details:
Berkeley | CA
Students: 40514
Acceptance: 16%
WASCACCJ
University of California-Los Angeles
School Details:
Los Angeles | CA
Students: 44413
Acceptance: 19%
WASCACCJ
UCLA offers students a two-year MPP program degree consisting of core classes, team-based projects and electives. Students can also have the option of joint degrees with Law, Management, Medicine, Public Health, and Social Welfare.
Programs:
University of Southern California
School Details:
Los Angeles | CA
Students: 47673
Acceptance: 18%
NASPAA | WASCACCJ
Program features include a management, analytical, and policymaking focus and multiple concentration fields, MPA Labs to develop professional skillset and knowledge, options to complete the MPA degree or take courses at the USC State Capital Center, and options for the Online MPA Program.
Programs:
Colorado

Connecticut
Trinity College
School Details:
Hartford | CT
Students: 2609
Acceptance: 33%
NEASCCIHE
Trinity College offers a Master of Arts in Public Policy for professionals who have an interest in theory and public policy. The areas of concentration offered are Public Policy Studies and Health Care Policy.
Programs:
Florida
Jacksonville University
School Details:
Jacksonville | FL
Students: 5520
Acceptance: 56%
SACSCC
The MPP degree at Jacksonville University focuses on policy analysis and decision making. The program also offers policy-based electives in education policy, strategic communication, political campaigning, and polling .
Programs:
Georgia
Georgia Institute of Technology-Main Campus
School Details:
Atlanta | GA
Students: 26942
Acceptance: 33%
SACSCC
Georgia Tech offers an MSPP program that focuses on public policy issues and implementation in areas such as science, research and technology. Available areas of concentration include energy and environmental policy; information and communications policy; science and technology policy; and urban and regional development policy.
Programs: