Masters in Public Policy Degrees
AD
Consider a sponsored online MPA program currently accepting applications.
Click to view all online MPA programs (and related) that are taking applications now for 2023.
Master of Public Policy Degrees
There are 82 Masters of Public Policy programs in our online directory. Public Policy is a more defined track of the Masters of Public Administration degree. Oftentimes it is offered as a concentration, or a specialty track within an MPA degree.
The MPP degree, which can be offered online, focuses more on affecting different policies and law either within the United States or on a global or international scale. The effects of people that work within Public Policy can be grand, or they can be more targeted in working with local governments or organizations.
AD
Consider a sponsored online MPA program currently accepting applications.
Click for online MPA programs that are currently taking applications.
Why a Masters in Public Policy?
The Masters in Public Policy program is a great way for graduates to get involved with the various aspects of the political and social environment. Dealing with both policy administration and problem solving, the MPP degree program is chosen by students that hope to become actively involved behind the scenes of policy analysis and creation in a variety of different branches of the public sector.
MPP programs focus more on bill, law, and policy, rather than administration and execution of ideas or laws. There is a strong crossover into law.
Consider a Featured Online MPA Program
What Can You Do With a Masters in Public Policy?
Providing a helpful hand to institutions and agencies that serve the public is an excellent way to serve society, making this an excellent degree program for interested applicants.
Students that decide on a public policy path will find that the curriculum includes studies into the basics of leadership as well as in depth looks into healthcare policy among, economics, and ethics. In order to become a great and effect public policy graduate, students must be able to apply various aspects of the social and professional world to policies that may affect large populations of people.
Online Masters Degrees in Public Policy
The reliability of online degree programs has progressed over the last decade to a level that is comparable to traditional learning environments. Graduates are finding that employers are more readily accepting online degrees due to the regulations placed upon universities regarding accreditation.
Dual MPP / MPA Programs
The Master's degree in Public Policy can be obtained through online-only degree programs. These programs allow students to get the most out of their degree program from their very own home. The online Master's degree in Public Policy may take about two years to complete through traditional scheduling and require that students actively participate in online discussions through a virtual classroom setting.
Online Learning Environment

The tests and homework assignments are turned in via an online drop box tool that delivers documents directly to the instructor. One university offering this degree program online gives students the option to work in a public policy sector on a local level in order to receive credit for courses throughout the program. Universities such as this one give students some variety as to how they are exposed to public policy, as well as providing a diverse mechanism for learning while in the program.
Related Public Administration Programs
What Can You Do With a Public Policy Degree?
With such a diverse degree program, students sometimes wonder what a Master's degree in Public Policy could provide in the future. The answer to this question lies within the graduate. Choosing a professional path is based not only on the degree chosen, but also the dreams of the student. A Master's degree in Public Policy provides students with the skills to work on the local level – managing non-profit organizations or even local government.
Government Policy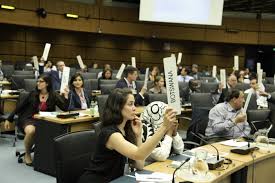 For individuals that seek a career on a higher governmental level, public policy graduates can potentially seek employment in state government – helping form and analyze policies that apply state-wide. Graduates in this field can work for healthcare companies, helping provide policies regarding public health and disease prevention.
International Policy
Global policy analysis is another field that may interest graduates in this major. Working with government agencies to ensure that policies not only fit the needs of America's citizens, but also aligns with what is expected internationally.
Association for Public Policy Analysis and Management
The Association for Public Policy Analysis and Management allows professionals in this field to become members and gives access to numerous tools for success throughout a career. Professionals in this field can truly benefit from the community support and literature available from organizations such as this one. Continuing to take advantage of these career advancement tools can assist professionals with finding the best jobs and staying current with the public and its needs.
Careers in Public Policy
With a Master's in Public Policy, a person may find public policy career opportunities that provide well financially throughout his or her lifetime. Depending on which field is chosen, the opportunities for advancement may be higher or lower than others. One of the highest paying positions that require this type of degree is the medical services manager.
Public Policy Salaries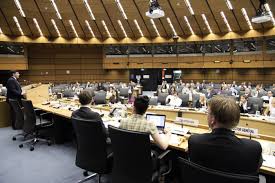 Having a high duty of responsibility throughout medical facilities, medical services managers provide guidance and planning for medical-oriented organizations on a daily basis. Those working in this position may earn $94,500 per year on average in the U.S. (BLS, 2015). These figures can vary depending on location and experience.
Management analysts provide valuable information to companies that seek better policies and ideas for improving their organizations.
Common Courses in Masters of Public Policy Degree Programs
Master of Public Policy degree programs are a great way to learn more about how organizations function and why they operate the way that they do. Students that are interested in pursuing a Master of Public Policy degree might be curious as to what type of courses they will be taking once they are enrolled.
The curriculum for public policy degree programs may include concepts that are related to policy development, government influence, and financial management. Each of these topics can help to create effective policy-driven professionals with the skills needed to make informed decisions about public policy.
Our team of educational experts has reviewed some of the top programs for public policy across the United States. The list below reflects some common courses that have been found within these programs.
If you choose a concentration for your degree program, you can diversify your experience and possibly have the opportunity to integrate in interdisciplinary approach to your learning. Take a look at the list of common courses below.
Leadership and Organizational Change
There are certain qualifying attributes for leaders in the field of public policy. This course seeks to help students gain the skills needed to provide effective leadership, critical thinking, accountability, and research to their respective fields. Students within this course may have the opportunity to engage in independent projects that test their abilities within these different areas to help measure their progress.
Governance and Public Policy
This course may help students understand how the government, politics, and democracy play into public policy. The foundations of this course may be found in research opportunities that can enlighten students to the influence of the democracy in the development of social policies and public programs throughout the country. If you enroll in this course, you may have the opportunity to learn more about these topics and how they continue to change and evolve.
Finance in Public Policy
Finance is a huge part of public policy. In this course, students can learn about how economics can affect policy analysis and development – on both a micro and macro level. This course may also outline the tax laws and regulations that apply to public programs and projects, in an effort to prepare future professionals for careers that are aligned with financial management. Some government influence may also be discussed throughout this course.
Strategic Planning
One of the most important aspects of public policy is the planning and implementation phase. This class can work with students that are interested in learning more about implementing strategy into their planning process. Some of the topics that may be discussed throughout this course may include team collaboration, project coordination, and inter-organizational efficiency.
Differences Between Public Policy and Public Administration
Students that are moving towards graduate-level educational programs often wonder how the different degree program intermingle within their respective fields. One of the most common questions for public policy students is concerned with the similarities and differences between degree programs in public policy and those in public administration.
Since this question is really important to students that are planning their professional future, our team has provided a breakdown of the differences between the 2 programs.
Direct Planning of Policy
Public policy degree programs may focus more on the direct planning and implementation of helpful public policies for a variety of causes. Students within these programs may see more classes that integrate knowledge about organizational law, strategic planning, and policy analysis.
The reason for this is because this degree program focuses on the need for effective planning of policy-driven programs. The public policy degree program – in theory – is the foundation for what public administration degree programs rely on for their implementation.
Public Administration Focuses on Implementation
Public administration degree programs focus on using what is provided by public policy professionals in a public setting. The administration component of this degree program can refer to working with employees, implementing the policies that are provided from research and creation specialists, and analyzing their effectiveness within a professional setting.
As you can see, both degree programs have very specific purposes within the wide field of public administration. Public policy graduates can find careers that seek to create and improve public policies, while public administration graduates can use those policies within a professional setting. Both fields are extremely important to the overall functioning of agencies within this field.
A Look at Recent Changes in Public Policy Degree Programs
The Master of Public Policy program has evolved with the need for more inclusive ideas within the field of public administration. Since policies are driven by public need, educational programs that teach public policy must integrate knowledge from several different fields in order to truly cover all of the necessary components.
Over the last decade, degree programs in public policy may have changed for the better in order to include topics from other fields within their own curricula.
MPP Specializations
Another component that has contributed to change within the field of public policy is the availability of specializations. A large number of MPP programs may also allow students to choose from a set of specializations that can help shape their degree program into one that is effective for their personal needs.
With the integration of specializations, public policy may be finding a place within many different fields that are focused on organizational development and policy implementation. If you want to increase your reach within the field of public policy, you might consider choosing a concentration or specialty that interests you.
Disciplined Economic, Government, Politics Courses
In recent years, students may have seen an introduction of several different disciplines within public policy degree programs. This introduction of new ideas may be in response to the need for more influence during the policy development process, or just a general growth of the field as a whole.
Course work that includes aspects of history, micro and macroeconomics, government and politics, and even organizational finance can be found within these degree programs. The inclusion of several different specialty areas within the MPP program can help future professionals develop a more useful foundation of knowledge for their upcoming careers.