Master of Public Administration Degrees
AD
Consider a sponsored online MPA program currently accepting applications.
Click to view all online MPA programs (and related) that are taking applications now for 2023.
Find Public Administration Programs
A Masters degree in Public Administration can be a valuable tool for graduates that are interested in making a difference in the public sector. The benefits of obtaining this degree go beyond better careers and more opportunity.
A Masters degree in Public Administration can prepare graduates for careers in both public and private sectors. Considering the administrative aspects, students can build on their current knowledge of business organization and how employees progress up the ladder. Financially, the skills obtained through this degree program may promote future success in areas of economics and even financial planning.
AD
Consider a sponsored online MPA program currently accepting applications.
Click for online MPA programs that are currently taking applications.
On both a national and world-wide level, this degree can provide graduates with a knowledgeable practices of management level professionals in various platforms. Public policy is found within many different employment settings, potentially making this degree choice a tool for success for years to come.
Those willing to obtain this level of the Public Administration degree may find that the potential for growth in non-profit agencies is beyond what can be expected. Those with a Masters degree in Public Administration may reap the benefits of great career opportunity and a variety of professional options throughout their career.
After completing an undergraduate degree, students interested in pursuing graduate studies may find that the struggle for convenience is overwhelming. Online degree programs are an excellent choice for those wanting to balance a busy lifestyle with a higher education. Individuals that are seeking online graduate programs for their Masters in Public Administration may find that there are many options available on the internet. Through online learning, students can receive a great quality education without having the inconvenience of planning and taking time off of work. Online Masters degrees in Public Administration are available even without having to take the GRE.
The Graduate Record Examination is a prerequisite requirement for most graduate level programs, so admission into a Masters program without having to complete this exam can be a huge relief for interested learners. Online degree programs without the GRE requirement are accredited and provide the same level of quality to learners that are seeking a meaningful and potentially profitable degree choice. These programs follow suit to traditional Masters degree programs, providing knowledgeable instructors and online course rooms that promote success for students all over the country.
Consider a Featured Online MPA Program
What Can I Do With a Masters in Public Administration?
There are multiple career paths with an MPA degree. The versatility of a Masters degree in Public Administration can range from small non-profit organizations to large and nationally known businesses. Generally speaking, graduates that hold a Masters in Public Administration degree can work within the government, public sector, private sector, or non-profit sector as executives, financial analysts, budget specialists, lobbyists, or even research in private and public organizations.
Government agencies rely on Public Administration specialists in positions such as local directors, community health, education, and even law enforcement. Public Administration prepares learners for careers that are concerned with the public sector, but can also contribute to careers in private organizations as well.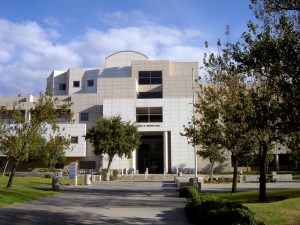 Careers in business and marketing can be obtained with a degree in Public Administration. Graduates from this program can seek positions in broadcasting, management positions in local or national businesses, or even politics. When choosing a concentration for a Masters degree in Public Administration, students should consider the field in which they plan to work and the employment potential for individuals in that specialty.
The Bureau of Labor Statistics provides salary data for various careers in Public Administration. The median salary for Administrative Service Managers was $86,110 in recent counts and $124,850 per year for individuals working in Marketing Management (BLS, 2015).
Masters in Public Administration Programs
The Masters degree in Public Administration program is typically an interdisciplinary program. Depending on the interests of students, programs in Public Administration can be found in many different disciplines. One major university provides concentrations in Economic and Financial Policy, Environmental Policy, Government and Politics, Human Rights, International Studies, and Public and Nonprofit Management.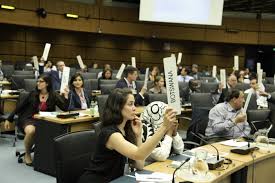 Students choosing a particular concentration for their MPA program will be provided with more specific scheduling requirements to fit their needs. Standard courses for the Masters in Public Administration program include Organizational Leadership, Nonprofit Management and Finance, Economics, and Inferential Statistics. Organizational Leadership teaches students about the hierarchy of positions within organizations. This course describes the various stages in detail including promotional advancement throughout. Nonprofit Management and Finance outlines the ins and outs of nonprofit organizations.
From administration to financial management, this course prepares learners for a high level career with a nonprofit organization. Economics and Inferential Statistics introduce the various economical and statistical elements that are involved in both private and public sectors. The information learned in these courses provide students with the knowledge needed to prevail in higher tier management careers in business.
MPA Programs
Program Areas
NASPAA Accredited Public Administration Programs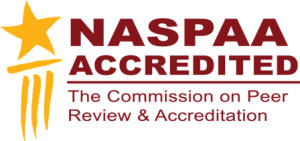 The NASPAA is a regulatory commission for public service careers and education and provides lists of accredited schools to those interested in attending the most reputable online universities.
Salary and Career Options for Masters in Public Administration
The Masters in Public Administration degree envelopes the various aspects of the public sector. From administrative ordering to financial planning, there is no stone that is left untouched in this degree program. The MPA program is designed to prepare learners for careers in local or federal government agencies and nonprofit organizations.
The public administration career guide and the highest paid public administration careers guide are helpful places to continue your reading on the top careers in public administration.
Through this educational program, students will learn the roles of officials in various positions throughout organizations as well as the planning and implementation of policies for these organizations. This degree program is best followed by undergraduate degrees in public administration, business, or economics, but has the potential to be paired with various degree programs. Through this degree program, students will learn to properly manage businesses that deal with the everyday influx of people, policies, and regulations.
Organizational roles are studied during this degree program, guiding students on the structure of various private and public organizations in various specialties. Since the public sector is such a large and diverse platform, the Masters degree in Public Administration is interdisciplinary.
There is a specialty for everyone within this field, depending on individual interests. Concentrations from business to politics can be chosen, preparing students for careers in their desired field. Regardless of which field an individual chooses, there are potentially numerous career opportunities with each. MPA programs can be the foundation for prosperous careers throughout many different fields of employment.
Below, you can select your state to find out more information about universities offering MPA programs.
Search Online MPA Programs by State